In Addition to Therapy in the Office…
I offer 40 acres of land on which we can walk, talk, see coyotes, deer, birds, and bunnies, soak up sun, and interact with horses.  Horses have become such skilled therapists, teachers, and healers that they have been given their own therapy modality, called Equine Facilitated Psychotherapy.
What is Equine Facilitated Psychotherapy (EFP)?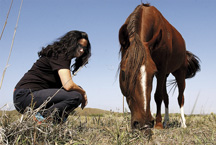 In EFP the therapy session is moved from the office to the barn and the horses teach assertiveness, empowerment, boundaries, intuition, emotional intelligence, self-acceptance, persistence, awareness, calm, and healthy relationship.  You also learn to cultivate openness, presence, and authentic action.  The more you are able to practice these skills the more they become an embodied part of who you are.  Some activities that are done with the horses to build these skills include:
Approaching the herd
Grooming
Setting Goals
Haltering and Leading
Meditating
Yoga
Boundary Sensing and Setting
Energetic Communication
How do I know if EFP is right for me?
If just the idea of sitting in a room for an hour talking about yourself is enough to make you want to forget the whole therapy thing all together, or, if you love animals, and are curious about animal-assisted therapy, EFP might be for you. No experience with horses is necessary.  You do need a sturdy pair of shoes and clothing that you don't mind if it gets a little dirty.  EFP sessions are an hour and a half, and can be done year round.  Many clients alternate between sessions with the horses and office therapy sessions depending on what is going on in their lives, the weather, and their schedules.
How can I find out more information?
If you feel called to working with horses and are interested in learning more about my perspective on EFP, please feel free to read some of my writing:
Opening the Gate: Cultivating Self-Awareness and Self-Acceptance Through Equine Facilitated Psychotherapy.
The Art of Setting Boundaries – What We Can Learn from Observing Horses.
Three Teachings From Hermano, My Horse
Elevator Speech for 2013 or What Exactly Do You Do With Horses?
Videos:
[youtube]http://youtu.be/JATCzVs6B-I[/youtube]
Boundaries
[youtube]http://www.youtube.com/watch?v=fgK1q03U5Mo[/youtube]
Presence
[youtube]http://www.youtube.com/watch?v=9h1blN0CEqk[/youtube]
Watching Over
[youtube]http://www.youtube.com/watch?v=UCGlvdq-rJA[/youtube]